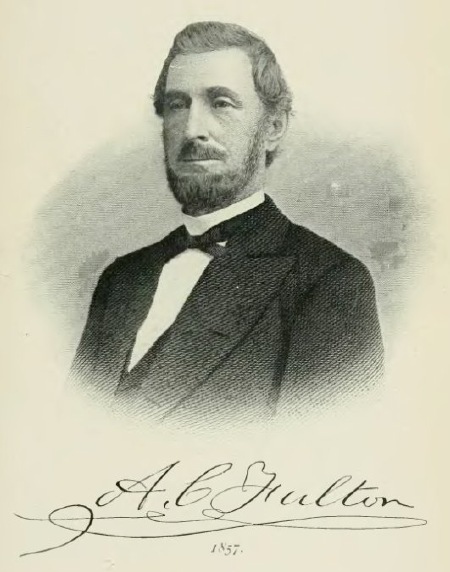 AMBROSE C. FULTON was born in Chester County, Pennsylvania, in 1811, working on his father's farm until 1827 when he went to Philadelphia and began a career of adventure. He went to sea, landed in New Orleans and engaged in trade with the West India Islands, accumulating money to build several business houses in New Orleans. He raised a company and aided Texas in its revolt against Mexico. In 1842 Mr. Fulton located in Davenport, Iowa, where he built the first flat-boat that made the trip to New Orleans from that city. In company with others he selected a mill-site on the Wapsipinicon River in Buchanan County and built a dam and flouring mill. In 1848 he built a large flouring mill in Davenport and was one of the first to project the railroad which was built west from that place. In 1854 Mr. Fulton was elected by a union of the Whigs and Antislavery voters to represent Scott County in the State Senate and helped elect James Harlan to the United States Senate to take the place of George W. Jones. For more than forty years Mr. Fulton was engaged in nearly all public enterprises for the building up of Davenport and during that time erected thirty-seven buildings. He was always one of the leaders and promoters of public enterprises to advance the development of the city and State. He was an intelligent writer for the leading newspapers and did much in that way to bring settlers into the city, and men of capital into the State.

Burial Records for Pine Hill. Please click on file to open.

All files are in PDF format and should be searchable by names. Names are in alphabetical by last name.

If you plan to come to cemetery for location, please write down all lot and section numbers shown on page. We will be glad to show you the lots.

Dates shown are burial dates. We do not have birth
and death dates available with exception to the last few years.

We do have maps available by clicking links below for each section. A general map is also available to show general layout of cemetery.

All burials through 2012


Quad City Times http://qctimes.com/app/obits/

Iowa Grave Stone Photo Project... http://iowagravestones.org/cemetery_list.php?CID=82&cName=Pine+Hill

Davenport Library Special Collections Room,,,,,, http://www.qcmemory.org/

Scott County Genealogy..... http://www.scottcountyiowa.com/recorder/genealogy.php